Music for a Darkened Blog
I had just written a really extensive blog about Conor Oberst and that which is Saddle Creek with multi-media links and what not, but for some ******* reason, the internet quit and the blog was un-saved. And since I now know like everything about Conor Oberst, I do not want to have to write about him again, plus I want to learn about someone else. I picked someone who's music i also admired, but didn't know much about:
What do Homer Simpson, Spiderman, Pee-Wee Herman, Jack the Pumpkin King, Dick Tracy, and Eva Longoria have in common? Danny Elfman has composed music for all of these characters/actors. WHAAAA!??? indeed.
Danny Elfman was born on May 23, 1953, in Los Agngeles, California. He grew up in a racially mixed are and was known to his friends as "the whitest kid in town." As a child Elfman naturally spent his free time in the movie theaters, listening to the great film scorers of the time. Elfman dropped out of high school, and went with his brother to France. There, he played violin on the street, and performed in "Le Grand Magic Circus," an avant-garde musical theatrical group. After a while, he moved o Africa, where he voyaged through Ghana and Mali.
Around 1972, Elfman returned back to the states, where he joined his brother Rick to start a group called "The Mystic Knights of the Oingo Boingo." The group became a cult classic, and later shortened their name to "Oingo Boingo" in 1978, and began touring the U.S. The band is known for their new wave influence and contributions to wierd 80's movie soundtracks. The band called it quits in 1995.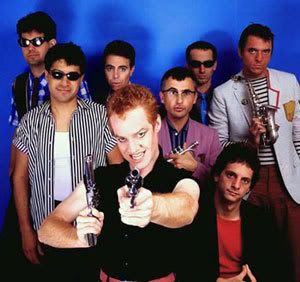 Oingo Boingo, circa 1980. Elfman is the crazy guy with the guns. Elfman is portraying Satan for the movie "Forbidden Zone."
While Boingo was enjoying comporable success, Danny met Director Tim Burton in 1985. They instantly clicked, and Burton asked Elfman to score the music for his first main film (and one of my favorite movies) Pee-wee's Big Adventure. Elfman had no formal trainng, but Burton was convinced Elfman could make a fantastic, if not odd score. Since then, Elfman has scored all of Burton's films, except for one. Some of these movies include "Beetlejuice," "Batman," "Edward Scissorhands," and the latest being "Corpse Bride."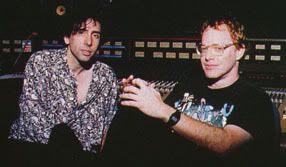 Elfman and Burton
Elfman has also written music for tv shows including "The Simpsons," and "Desperate Housewives," the former got him nominated for an Emmy, and the latter won him an Emmy.
Elfman is is one of the great modern film scorers of our time, and is sure to influence musicians and writers for years to come. He currently lives in L.A. with his wife Bridget Fonda, and son Oliver.
-DF
Resources Used:
-http://en.wikipedia.org/wiki/Danny_Elfman
-http://en.wikipedia.org/wiki/Oingo_Boingo
-http://www.imdb.com/name/nm0000384/