bio # 4
My musical history is far from ordinary. I didn't see any inspirational concerts, get forced into playing, had older sibling influence. None of that. When I was in seventh grade, all my friends were in some cool punk rock band, and of course, if you were in the cool punk band, you got all the ladies. And so ii wanted to start a cool punk rock band. I told everyone in school that I played drums and how awesome I was. But the truth was, I had never held a drum stick with the intent to make music. I went home and told my parent I needed a drum set so bad, and that I really wanted to play. I took some lessons, and my teacher said I had potential. Hearing from an expert sealed the deal for my parents, and I got a used Yamaha stage custom for Christmas 99'.

Thats the earliest picture I have of me playing drums.
in January I started my first band. We called it "Jumbox," and it was so bad. I mean, we were terrible. But we were so cool at the same time, so it didn't matter. We would spend half the "practice time" dissing other bands and taking pictures, and listening to NOFX, rancid, link 80, T.S.O.L., and all sorts of other punk bands. In eighth grade I changed schools, and the band fell apart. But it only took me a couple months to join the next one.
2001 was probably the most explosive year for music, until recently. I started my classical training in percussion, did my first recording sessions as a drummer, and took kit lessons with dashboard connfessional's, and Miami native, mike marsh. This band was called "piece of mind." don't laugh too hard. Anyway, we were so good for 12 year olds. We played at a bar every Thursday night, for a bunch of drunk old people, who might I add, LOVED US! We played Jim Hendrix, and Jefferson airplane covers, with original tunes as well. We also acted as a studio band, and recorded for who ever wanted to record with us. The best gig was when we got paid to record at criteria recording studio. Artists who recorded there include the bee-gee's, R.E.M., Jennifer Lopez, etc. It was so awesome. I remember going to the bath room and thinking "j-lo was in this bathroom!!" anyway, that band was so much fun. We went through like five bass players, but me and Jessie(guitar/singer) always remained. The band lasted 2 1/2 years, and me and Jessie are still best friends. I have like 3 recordings so come to my room if you want to hear it.
in sophomore year I started two bands. "terry and the tourettes," and 'our last days as children." The first one was a blues band. We had mild success. Our biggest accomplishment as playing in the legendary
"Tobacco Road"
venue in downtown Miami. Are only song recorded an be heard
here.
We broke up because Terry was a jerk.
my next band was "OLDAC." this band definitely got the most attention. We started playing in fall 2003. We actually met while I was recording with terry, so as soon as that door closed another opened. We had over three different recording sessions, and had planned on recording in New York, but our budget wasn't big enough. We played as far away as north Carolina, were in national indie music news papers, have been played on Miami radio, and were on an Oregon based radio/internet show. We were influenced by the likes of cursive, Owen, the agency, bright eyes, jimmy eat world, etc. Earlier this year, I left the band, because, here I am, writing about them, in college, a million miles away. All the recording they have are still me playing drums. That's Dennis fuller drum ideas, not the new guy. Just know that. But I do love this band and we till talk and hang out. They're looking to tour up north, so maybe they'll come to Indiana? Anyway, that's "our last days as children," by far, my most successful band endeavor.
This is their current myspace page with music.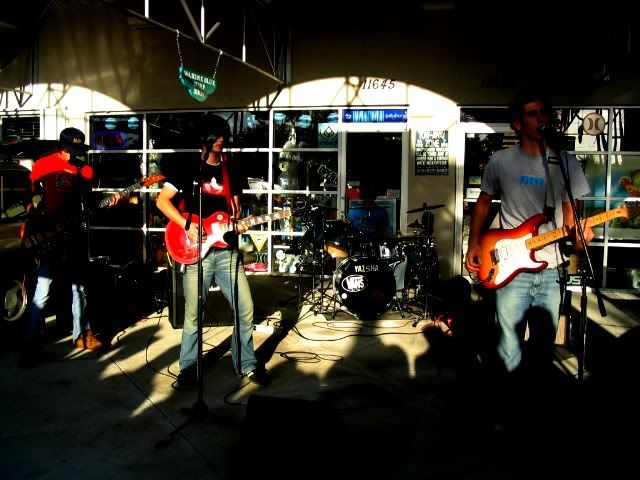 Our first show =0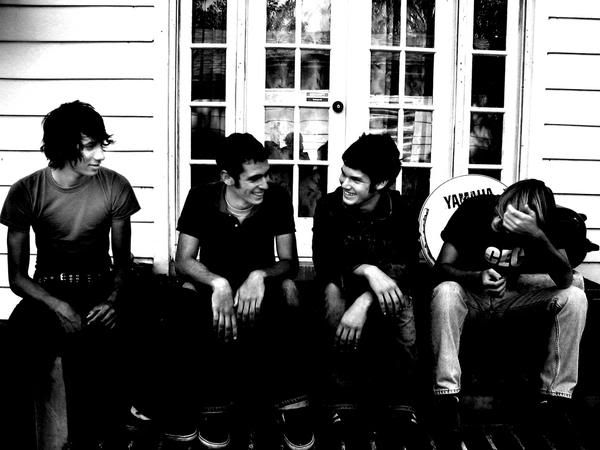 promo pictures =/
And for my last independent band, "Highway." Highway was the most craziest hardcore band ever. With myself on drums, Joey, a University of Miami medical student on guitar, Mike who is a nurse on vocals, Romy, whose got everything you can possibly get pierced pierced, on bass, and the ever awkward peter Allen on guitar 2. This band was semi serious. we palyed a good amount of shows last year, but that was that. They still practice in Miami, but with they're songs constantly changing, and never staying solid, I doubt they'll ever play another show. Our recordings can be heard at
myspace.com/highway.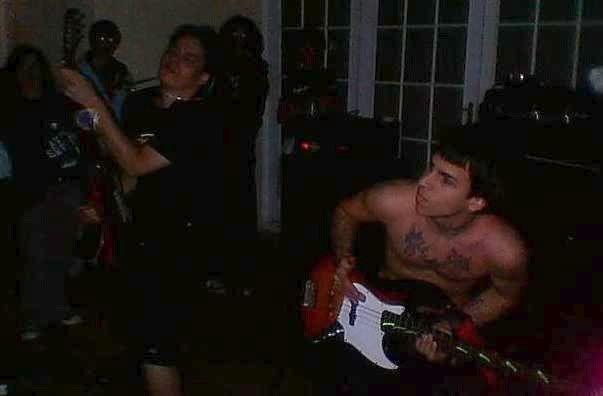 Peter and Romy of the old Highway.
In the midst of all this, I was also performing in musical theater. I did over 10 musicals in two years. my first was "Joseph and the amazing technicolor dream coat." I met many other students from music schools and expanded my musical network. I also learned how to improv on music, becaus e sometimes we had no time to rehearse.
I also attended cannon music camp in north Carolina for two consecutive summers. This was probably the best thing I have done to improve myself as a drummer, and as a person. I learned so much about my instrument, and it also prepared me for college, staying in a dorm for a month. Definite recommendation to any younger musicians looking to improve their skill in a focused environment.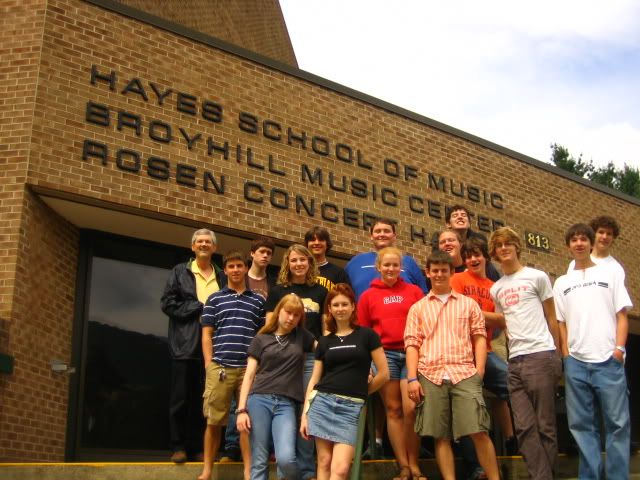 That is the 2005 Percussion Ensemble at Cannn Music Camp.
In case you're wondering, there is more to my musical life, but I won't go into detail about it. I did a lot of musical theater, for the Miami Children's theater Compny, and I played in the Greater Miami Youth Symphony. Two season ago we went to Carneagie hall, with some other orchestra from Hawaii. We played Bartok, Stravinsky, Wagner, and Bernstein.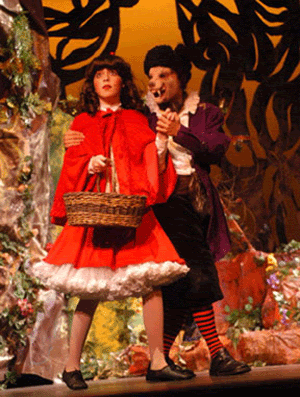 This was taken during one of MCT's performances of Sondheim's "Into the Woods." That was my favorite musical to perform.
Lately, I've been getting more into contemporary composition, and getting more into styles other than classical. I would like tp pursue a carreer in jazz, or rock if possible. I wish there were classes that would disect othere genres of music, like rock, as much as classical. I'm looking for a way to study that, and don't know if DePauw is the answer.
To wrap it up, I just wanted to say that, those guys that I first started playing music with in seventh grade, no longer play music. I see them every now and then, at a party, wasted or something. And I think that its sad that the people that I was so fond of, and influenced me to play, no longer do. Like the inspirational speaker said on Friday night, "show me your friends, and I'll show you your future." I guess it is somewhat true. Because, as far as I know, Jessie and myself are the only ones pursuing music as a profession, and life style. We're all here for the same reason, because we love music. And sometimes you have look at your past and see the road you've taken to know where you want to go, or, in my case, where you don't want to end up.