ELECTRIC SIX! FIRE!
The concept and genius of electric six is hard to explain, especially if you don't have sense of humor. Simply put, if disco and metal had sex, and then disco did a lot of coke while she was pregnant, electric six would be the product.
Electric six's first album, appropriately called "Fire," is all about fire, nuclear war, spendin money, fire, gettin the party started, fire, and gay bars. Did I mention fire? All the songs on this album are powered by beating bass drum disco beats and scorching guitars reminiscent of foghat and aerosmith. But you really listen to the album for the bizarre, tasteless and hilarious lyrics of front man Dick Valentine (his stage name).
Songs like "she's white" and "naked pictures of your mother" reflect valentine's unusual writing style. After you hear the songs, you wonder if what you just heard really happened. And it did. And you want more. After listening to the cd, you begin to realize the album is a mockery of American cliches and stereo types. Even the music minus the vocals, is played with such conviction, yet with a sense of American decadence and triviality. Is that a word?
despite they're silly music, electric six is quite a serious band. They have way more edge and substance than any indie pop band, and they could definitely beat up PANIC! at the disco. So if you're looking for some party music, or just a ridiculous time, e6 is the way to go.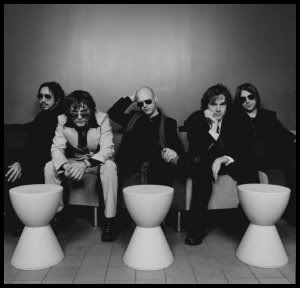 -dennis
ps: they have two other albums; señor smoke, andSwitzerlandd, which just came out lastTuesdayy.